Crossroads – Global Majors
The CGM managed service aims to provide an optimal balance of consistency, safety, and high-performance – independently of market conditions.  
Through focussed diversification across major markets only, using multiple strategies and time-frames, clients receive access to a modern and streamlined managed service, with access to global opportunities, through a single Australian Dollar account funded with the NAB.
Key service points to understand:
•  Segregated, secure account structures
While all clients receive the same trades, they do so on their own fully-segregated account. Deposits are made directly  into the National Australia Bank. You will simply authorise Investor Unity to place orders on your account. Only you will have access to your funds.
•  Diligent risk-management principle

The key to long-term profitability is diligent risk management. Avoiding large losses is ever the first and foremost priority. No more than 2% of the account is ever allocated to a single trade, with standard/average risk-per-trade at just 1% (tailorable to your preferences).
•  Simple investment structure – With no lock-in periods or conditions

Complex fee structures offer very little (to you, the investor). Real confidence in a service means no establishment, membership, account closure or hidden fees. You pay a simple rate for your executed trades and a performance fee if returns exceed the established high-watermark rate of 20%.
•  Instant account transparency- Wherever you are

When it comes to you really knowing how your money is being used, the vast majority of managed-services fall well short. Immediate, 24/7 online access to your account allows you to see your trades, price-charts, balance, statements (live & in real time), wherever you are.
•  Direct contact with Adam La Vars, the Creator & Manager of the CGM managed service

While we firmly believe in utilising technology to its full benefit, nothing should ever take the place of old-fashioned good service. If anything, at all, is ever on your mind- the person who watches the markets & places the trades is only ever a direct call, chat, or email away.
•  Service type: Managed Trading (separate accounts)
•  Markets traded: Major; currency pairs, indices, and commodities
•  Funds are held in a segregated client account, with the NAB, and are readily accessible to the client (only)
•  Rules-based discretionary market approach
•  Cost/fee-structure: Trade execution charges and performance fee (details below)
•  Minimum AUD investment: $10,000 (initial lower entry-levels available, by request)
•  Partnering broker is AXItrader Australia, who consistently out-rate their competition (in independent studies) and are highly favoured by IU
•  Just 1% of account typically risked, per trade (tailorable to client preference)
•  Protective orders are simultaneously placed with entry orders
Important: While the service is based around short-term trading (and involves no exit fees) this should be considered by those looking for a medium-to-long-term investment. As always, please consider the service providers relevant legal documents and consult with your own advisors, as much as is necessary. No information provided by IU actually considers your own personal circumstances.
A Unique Approach
Markets Methology
Perfomance & Risk
Trading and Performance Fees
Performance
Account Structure
FAQs
A Unique Approach
A unique approach to tailoring risk & performance goals
With a very strong emphasis on high precision risk management techniques at its core, CGM clients have the choice of having risk & performance aims further customised according to their own goals, preferences, and risk tolerances.
Per-trade risk/size:
Looking at the core risk-per-trade levels (below section), clients are able to request for their own account to receive either higher or lower per-trade risk multiples.
Multiples can be set at account establishment, or set and/or modified at any stage.
For example, a more conservative client may wish to receive trades at a 0.7 multiple of the strategy's baseline amount (70% of the standard). This would reduce both risk & performance expectations by 30%.
Conversely, clients may wish to receive increased trade sizes, for either or both of these potential reasons:
Higher risk tolerance and aggressive performance: requesting a multiplier of 2, for example, would double both the risk & performance expectations.
Fund retention/allocation: A client may simply wish to keep funds in their bank account, while having the account traded as if the full amount was in their trading account.
Account Risk – 'Drawdown':
At account establishment, or set and/or modified at any stage, a client can specify a 'drawdown' level at which their account will cease to be traded.
For example, if a client aims to risk no more than 25% of the account, all open trades would be closed once that level was reached. The client would then be contacted, and could then determine if/when trading was to resume.
Account Pause:
If the client ever wishes to remain out of the market for a certain period, their account can easily be paused.
Markets Methology
Core Markets Methodology
Covering two-time horizons – intraday and weekly – CGM provides within itself a diversified, yet complementary approach. Intraday trades aim to capture market moves, as they develop, while the weekly method will typically hold positions for several days.
The CGM approach begins by analysing the short to mid-term market behaviours in order to identify the current market type (i.e. trending, breakout, or range), using:
•  A multidisciplinary approach (behavioural analysis and statistics), to thoroughly gauge the sentiment and direction of the markets.
•  Price action analysis, with minimal to zero use of technical indicators, to determine each trade's optimal entry and exit points.
•  The interactional relationship of various central market players, in order to address correlation risk and opportunity.
•  The monitoring of fundamental developments and news announcements, solely for the sake of risk aversion in avoiding excessive volatility.
Perfomance & Risk
Performance and Risk
High-precision risk and money management are a key factor of the strategy. For the sake of reducing liquidity risks, price-gapping risks, and risks relating to trading costs – the largest and most liquid, major global markets are the focus.
Risk-per-trade is conservative. Dependent upon the strength and clarity of the analysis, CGM will risk between 0.5% and (occasionally) 2% of capital, per trade, with most trades being at 1 or 1.5% or risk.
Each trade's size is precisely calculated – to decimal places, and incorporating live account-currency exchange-rate considerations – the purpose being to always maintain an acceptable level of risk.
In line with the diversified and risk management model, performance expectations are well beyond industry averages and can be tailored, according to the client's risk tolerance.
Brokerage firm of choice:
Accounts are established and held with AXItrader Australia. Their well-established reputation amongst top-tier professional traders, execution fees and efficiency, and safety of clients funds sees them as our choice for the execution of CGM.
They are one of Australia's very largest such firms, and one of the largest in the world.
Trading and Performance Fees
Basis:
There are no: setup, subscription, administration, or management fees. Nor are there any necessary software/data purchases. Clients are free to withdraw some or all of their funds, at any stage, without restriction or penalty.
A balance of execution and performance fees are applied.
Execution fees are volume-based, meaning that they are appropriately scaled to the account size at all times. While reduced commissions may be offered on large accounts, this model ensures that smaller accounts are not disadvantaged by a minimum-fee brokerage amount and that costs can be accurately factored into the risk management principles of the strategy.
Performance is based upon a high-watermark model – with a preset high-watermark of 30% applied. This ensures performance fees are charged only on actual returns achieved, and no performance is charged until at least a 30% return has been delivered.
Brokerage (AUD):
Minimum brokerage: 0
Investor Unity Brokerage: $2.50 per $10,000 traded (includes trade entry & exit)
AXItrader Australia Brokerage: 70c per $10,000 traded (includes trade entry & exit)
Performance
To see the current performance of CGM or see the hypothetical growth of your investments, please visit our CGM Performance page.
*Figures updated monthly
Account Structure
Accounts can be established as an Individual, Joint Account, Company, Trust, or SMSF.
Account opening is simple, entirely electronic, with accounts potentially established and ready for funding within minutes.
Simple, separate, yet fully managed accounts structure (video explanation here):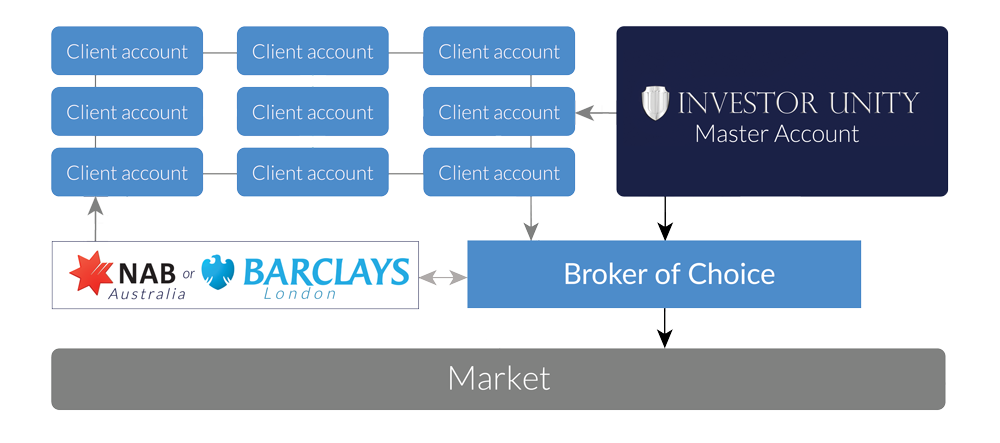 CGM Account establishment process:
Submit your online application here (less than 5 minutes required)
Fund your account (various fee-free methods available)
Authorise Investor Unity to place trades on your account
Inform us of your desired risk levels, or whether you'd like the standard, baseline methodology (0.5% – 2% risk per trade with no maximum drawdown risk set)
A setup confirmation will be immediately sent, upon completion of your account's connection.
The ultimate authority of the account and funds remain with you the client, at all times, with Investor Unity being authorised to place and modify trades only. We have absolutely no authority of the monetary (deposit/withdrawal) operations of your account, with this handled between the client and AXItrader Australia.
Funds are deposited and held in segregation with the NAB, under the full protection of ASIC laws and regulations, at all times.
AXItrader Australia holds the highest levels of Australian Financial Services Licenses, under stringent ASIC compliance requirements.
FAQs
Who manages CGM?

CGM is traded by Adam La Vars, our Founder. He started his financial services career in 2003. All final trading decisions are his.

 

---

What are the markets traded by CGM?

CGM trades major currencies, indices, and commodities; primarily for the purpose of reduced risk through highest liquidity and lower costs.

 

---

What is the usual holding period for each trade?

Anywhere from a few hours to a few weeks, with the majority of the trades being held for a few hours to overnight.

 

---

How many positions do you usually have?

Usually just 1 or 2 open trades, at any given time. During uncertain or overly volatile markets, clients can expect little to no trading activity, while we simply wait for safer opportunities.

 

---

What are the unique benefits of investing in CGM?

There are several unique benefits in investing in CGM. The aim of CGM is first and foremost to avoid large losses – regardless of market conditions and to deliver solid year-on-year growth; without relying upon a positive economic climate.

Risk levels which are tailorable (and adjustable to the individual client's needs – either more conservative or more aggressive – is a unique benefit for many of our clients.

 

---

Does the owner and manager of Investor Unity have existing investments in CGM?

Yes. Both the trader himself, personally, and IU shareholders are invested alongside the clients.

 

---

What type of orders do you use for CGM?

Trades are entered at market, manually, with the stop loss being simultaneously placed every single time. In some cases, albeit not often (the preference is to raise the stop-loss into profit), a take profit order is also entered.

 

---

What is the appropriate holding period for CGM?

Unlike many traditional managed funds, CGM does not have any minimum holding period. Clients have full and unrestricted access to some or all of their funds at all times, directly through their broker portal, independently of IU.

 

---

How long has this strategy been running for?

The strategy has been thoroughly back-tested over decades worth of data and shown consistently high returns with very low account drawdown. It first began trading in 2008 and has been continually refined and improved upon since then.

 

---

How can I be confident with the safety of my funds?

It is important to understand that Investor Unity does not have access to your deposited funds, at any stage.

Clients establish their own, fully separate trading account; usually with AXItrader Australia, with funds directly deposited and withdrawn through their segregated NAB client account.

Authority is granted to Investor Unity for the placement of trades only; access to client funds is never requested nor necessary.

Why did you choose AXItrader Australia?

The main reasons AXItrader Australia is our primary broker of choice:

Very low execution costs;
Highest security of funds, due to the size & backing of the company – one of the largest in the world;
First rate client support; and
Highly efficient trade execution

 

Do you also trade illiquid markets or exotic currency pairs?

No. CGM focusses on the largest and most liquid markets primarily; for the sake of risk management, and in line with the defensive nature of the service itself.

 

How is the performance fee calculated?

The performance fee is 20% of positive growth (after all execution costs), using the 'high-watermark' model. This ensures that performance charges are only applicable to actual account growth.

A unique aspect of CGM is that a positive high-watermark of 30% is applied, upon establishment of the account. That is, performance fees are only charged after 30% (NET of all costs) has already been delivered to the client.

 

What is the minimum initial investment?

Currently, the minimum is just $10,000 (soon to be raised).

 

How can I monitor my account and its performance?

Software (Metatrader 4), web-based, and smartphone applications are provided by AXItrader Australia.

All of which provide live market and account information 24/7. Additionally, you will receive daily email statements detailing current account performance.

 

How often do you update your clients?

In addition to the daily trade statements, Investor Unity sends out a frequent strategy and market updates.

 

What is the expected drawdown of CGM?

Given the fact that CGM trades non-correlated strategies with high precision risk management- and simply stays out of the market during periods of high uncertainty – drawdown is expected to not be more than 20%.

 

Do you use leverage?

Yes. Leverage is very often the best way to take advantage of the opportunities that trading strategy and risk management model allows for. Our approach to leverage is conservative in that trade sizes typically range from 1 to 5 times the account size.

Most importantly, regardless of trade size, the risk management strategy itself allows for per-trade risk of between 0.50 to 1.5% (including any entry/exit costs), with the very occasional trade at 2% risk.

 

Is there a minimum investment period?

None. The client's account itself is ultimately under the control of the client themselves. Funds can be added, withdrawn, or the service can be ceased at any time – without restriction.

 

What if I decide that I want to discontinue the service, for some reason?

Since the account is, ultimately, under your control- you'd simply remove Investor Unity's authority to place orders on your account. This would disconnect you from the master account, and prevent you from receiving any further trades. This can be done simply by contacting either Investor Unity or the partnering brokerage firm.